WELCOME TO KAMENSK-URALSKY!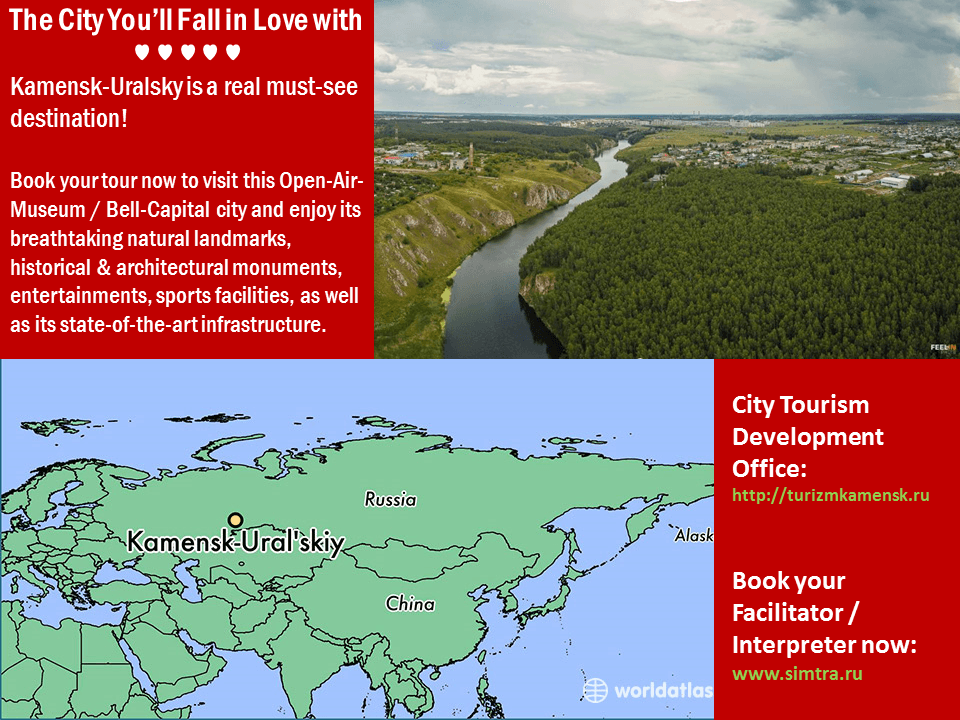 Our city is situated 100 kilometers away from Yekaterinburg, in the very south of Sverdlovsk region. It is the birthplace of the first metallurgical factory in the Urals that was founded here three centuries ago.
Nowadays, Kamensk-Uralsky is the third largest city in Sverdlovsk region and the largest industrial center in the Middle Urals. The city has its own Professional Drama Theatre, Exhibition Hall, Local History Museum, Geological Museum, a sub-agency of the Sverdlovsk Philharmonic Concert Hall and of the Musical Comedy Theatre, the Exotic Bird & Animal Center, a number of sanatoriums, hotels, shopping malls, movie theaters, and fitness clubs with swimming pools and spa-zones.
Kamensk-Uralsky is often called an Open-Air Museum due to its location on the scenic banks of two rivers – the Iset River and the confluent Kamenka River. Our city landscapes are unique and breathtaking. You don't have to spend days to get acquainted with unique natural landmarks, or to see majestic, lofty and bizarrely-shaped rocks. A few hours are enough. One of the most famous rocks is the Stone Gate rock.
Our city has some old buildings dated 18th and 19th century. In the older part of the city (called the Old Kamensk) there are 30 architectural monuments of regional significance. The said buildings used to be merchants' residences, or schools, colleges, and shops. The factory office building (which is an architectural monument of federal significance) is perfectly preserved in the historic part of the city. It is the Local History Museum now.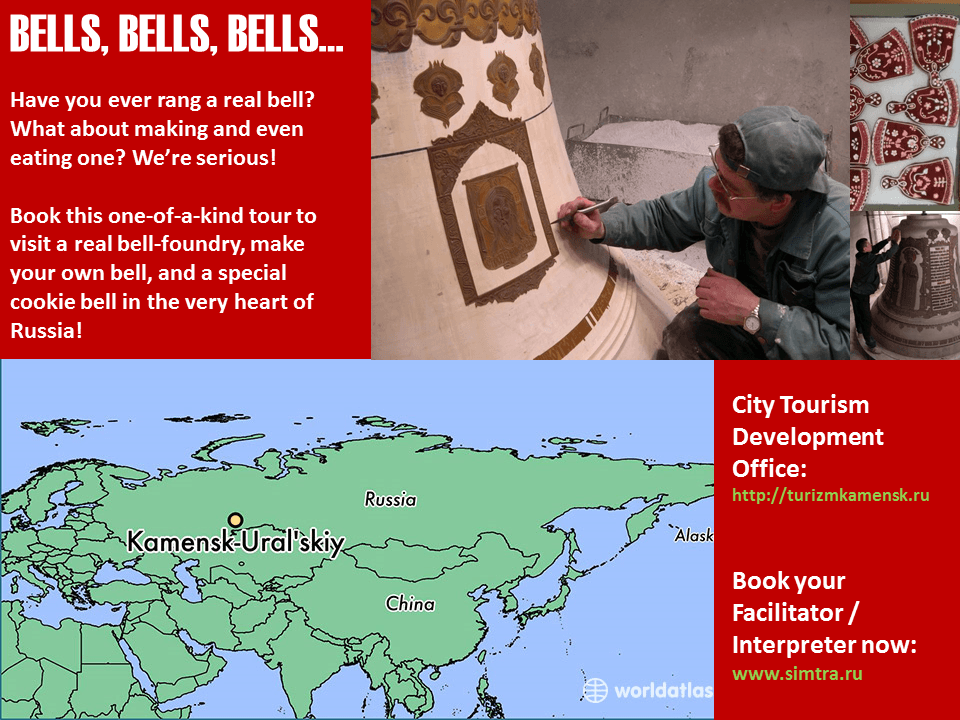 Another unofficial name of Kamensk-Uralsky is the Bell Capital of the Urals. The local bell-foundry has been casting bells for Russian, European, and US-based temples for two decades. The said factory is the only Russian factory where the tourists can see the casting process on a "from…to" basis, and in the end of the tour they can even make a wish by ringing the bell…
We would like to thank the Kamensk-Uralsky Tourism Development Office for information provided.
As for our company, we are here to provide interpretation services. Send your interpreter request to info@simtra.ru, or call +7 904 980 1990